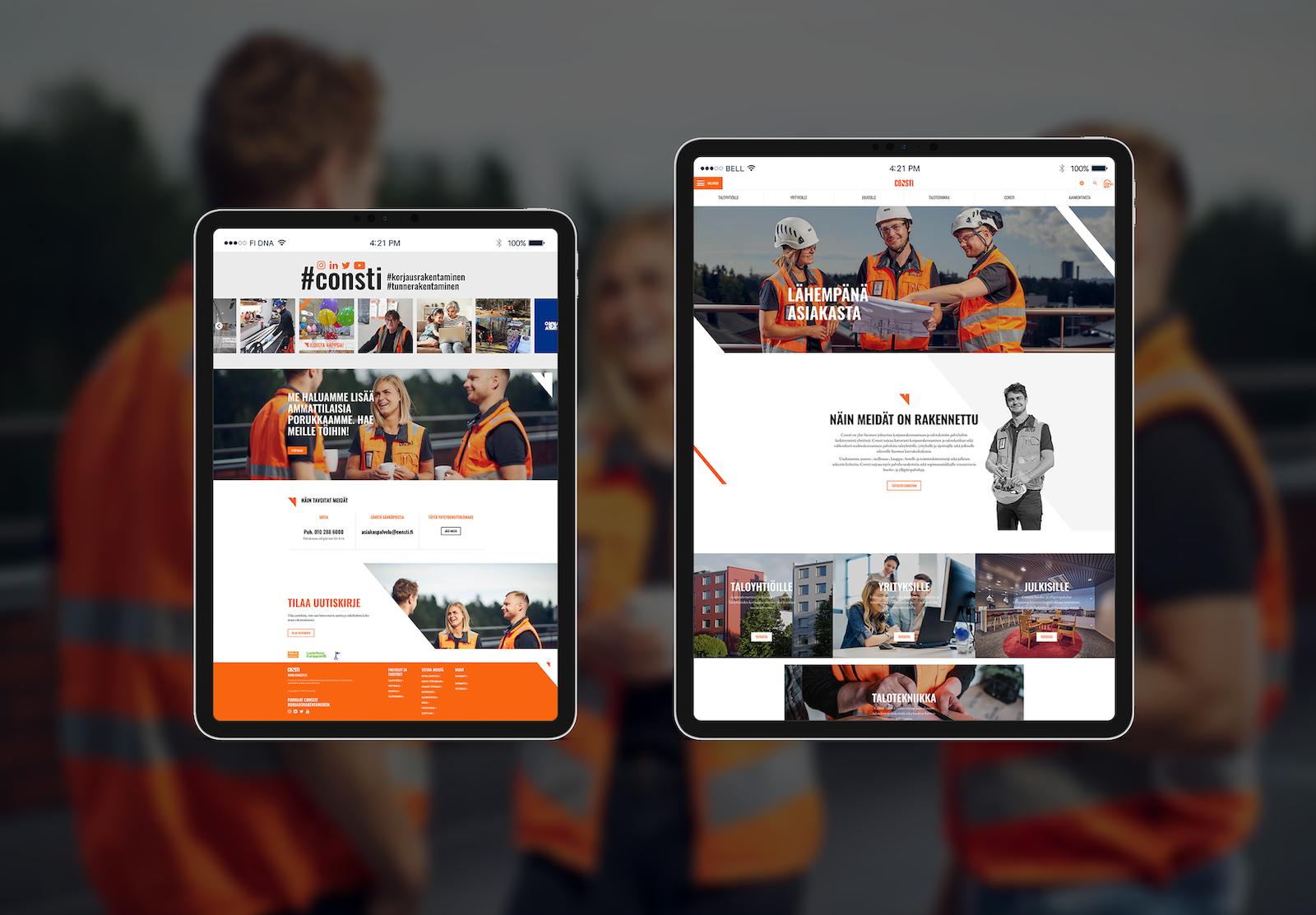 Improving the usability and visibility of their new website to generate more contacts
Analytics, site usability development, CRO, SEO
Significant increase in contacts and improved cost-efficiency in advertising
The development of Consti's website achieved a significant increase in contacts and improved the cost-effectiveness of advertising
Consti is one of Finland's leading renovation and technical building service companies. Consti offers a comprehensive selection of renovation services and technical building services, as well as a more focused range of construction services, to housing corporations, companies, investors and the public sector in Finland's growth centres.
Consti's old website had gradually come to the end of its service life. It no longer served its purpose of showcasing Consti's services and generating contacts through the internet as well as it could. So the company decided to do a makeover.
The objective of the website overhaul was to build a site that would generate leads and serve Consti's potential customers as effectively as possible. The project's goals were accordingly set as improving the site's user-friendliness, increasing organic traffic and the amount of leads generated by the website, as well as presenting Consti as a reliable brand.
Quru helped Consti make their site as efficient as possible in connection with the makeover.
The tools: site usability development, CRO, SEO and analytics
The usability and message of Consti's new website were naturally planned on the basis of the company's business objectives, but we also made use of data gleaned from the old site.
Quru's team helped Consti with the initial specifications and provided support during the overhaul project, e.g. with redirection and SEO sparring. The team also installed site monitoring to avoid interruptions in service.
After the new site was launched, Quru did a technical SEO audit of the site, made sure that the monitoring worked, and updated the advertising content and redirections to match the new website.
Results through continuous analysis and development
The number of direct contacts has increased significantly with the new site, and the company's advertising is now more cost-effective.
Consti's cooperation with Quru has been founded on continuous site analysis and development. The results are regularly compared to the site's targets, and we are constantly polishing the customer paths with CRO.
Quru and Consti have undertaken a variety of development measures after the website upgrade. These have included corrective action based on technical SEO audits, updating the site's contents into a more search engine and user-friendly format, and conducting usability analyses of the principal service paths.
Customer's comment
"We are extremely happy with Quru's expert and instructive approach to website development. Quru's contribution was vital for the website's technical, visual and customer-oriented functioning. There is no end in sight to this partnership, as the site is updated on a constant basis."
Minna Vierula, Consti Oyj
How can we help you? Let's talk!
When you want to make the most of digital channels, Quru will help you get started!